From Fragile Soul to Faithful Advocate
July 31, 2017
by Darla Knoth
"As a domestic violence survivor, activist, and counselor, my commitment and responsibility will always be to bring current information and services that contribute to the eradication of domestic violence and other social problems in our community," says Bethzaida Garcia, a Florida woman who advocates for domestic violence awareness. Here is just a small segment of her story:
When Bethzaida, a pastor's daughter in Puerto Rico, was seventeen, she fell in love. But that love turned to shame when she had a baby out of wedlock.
Because she wanted to take the shame away and honor her parents, she married the father of her child. "In my culture, my condition was a great downfall. He was the complete opposite of what I had learned a man should be."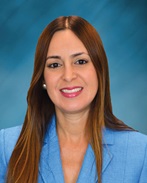 However, the shame continued as Beth's husband became abusive.
"I remember the day well—the day that would change my life forever," Beth recalls. "I went to work that day as I did daily, but I had a haunting feeling. My mother had warned me that he would end up killing me someday." There had been other beatings, yet Beth continued to think her husband had changed. She believed he deserved a second chance, and that she was closing a chapter of shame in her life by staying married to him. And she loved him.
"But on that day, I lived the longest hours of my life," Beth recalls. She was able to escape her aggressor and move to the United States.
As Beth became more established personally, she wanted to develop a support group in her church, to create awareness, and to be an advocate, especially to Hispanics. "God started waking me up at night, and spoke to my spirit. He took me to Proverbs 24:11, (NIV), which says, "Rescue those being led away to death; hold back those staggering toward slaughter."
Beth spoke with her pastor, Nino Gonzalez, who also serves as the district superintendent for the Florida Multicultural District Council. She then started a Fragile Soul ministry at her church. It has blessed many women and leaders since its beginning. "God gave me a dream of planning a large seminar to prepare leaders to work with survivors, and create ministries in local churches. I also received favor in connecting with television and radio stations, newspapers, community organizations, and businesses to spread the word: no violence!" Beth recalls.
Pastor Gonzalez says, "Beth has allowed God to use her own experience as a domestic violence survivor to share His redeeming power. She has gained the respect of local city and state government officials, and has been part of many task force regarding family and healthy living."
As Beth started this ministry, she also finished a master's degree in counseling, which helped her develop a broad knowledge of what domestic violence is. She created her own nonprofit organization called Life in Your Hands, which is now recognized as an authority on domestic violence in the Orlando area and beyond. The seminar she developed has been broadcast multiple times on local public television, reaching thousands. She often is invited to local churches to train leaders in starting a ministry to domestic violence victims.
"I now have the honor to serve as a member of the Executive Board of Help Now of Osceola, the shelter that once opened its doors for me and my daughter. I am paying it forward with my time and resources," Beth says. She continues to train faith-based organizations to deal with domestic violence, and connects with local shelters, and elected officials. She is an advocate, asserting that funds are needed in the community to help fight domestic violence.
Beth received the honor of "Woman of Distinction" in the Community Leadership category by ImpreMedia in 2014, as they recognized one hundred heroines of the Latino Community throughout the United States. The Florida Governor's office has recognized her efforts to create domestic violence awareness. Telemundo, Univision, and the Venezuelan and Dominican communities in Orlando have also recognized her work. She was also nominated for the Girl Scouts of Citrus Women of Distinction Awards, for the Community Impact Award.

For more information, visit
lifeinyourhands.org
.